UVa has been under a lot of pressure this month after an article published in Rolling Stone made waves for the prestigious state university because of an incident that occurred in the Fall of 2012. The story is lengthy, and graphic, but for those interested, you can read it at:
A Rape on Campus: A Brutal Assault and Struggle for Justice at UVa
Ill sum the story up. The rape of a freshman by seven brothers at the Phi Kappa Psi house has outraged the community and shed light on Greek society at campuses all across the country. As a result of these allegations, President Sullivan has suspended all fraternities on campus following protests held at Rugby Road. Furthermore, 4 protesters were arrested by Charlottesville P.D., and the Phi Kappa Psi house was vandalized in response to the allegations with windows broken, and "The Center for Rape Studies", and "Suspend Us", spray painted on the Phi Psi house. A letter written anonymously by a "John Doe" was submitted to various news organizations, including the Cavalier Daily, claiming responsibility for the vandalism, and demanding the following:
"An immediate revision of University policy mandating expulsion as the only sanction for rape and sexual assault."

"The immediate suspension of UVA's Phi Kappa Psi chapter, and a thorough review of the entire fraternity system."

"A thorough overhaul of the University's Sexual Misconduct Board and the resignation of Dean Nicole Eramo."

"The immediate implementation of harm reduction policies at fraternity parties, such as policing, University supervision, or permission for parties to be held in safer environments such as sorority houses."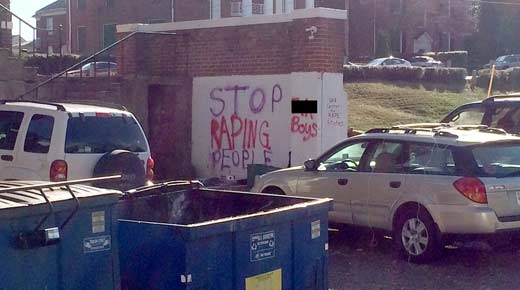 Additionally, the letter read: "We applaud the bravery of those who have shared their stories, and we promise that their bravery will not be in vain. This situation is just beginning. We will escalate and we will provoke until justice is achieved for the countless victims of rampant sexual violence at this University and around the nation."
President Sullivan addressed the allegations in a statement made on the 19th: (
https://news.virginia.edu/content/im...ual-misconduct
)
Phi Kappa Psi put out their own statement on the 20th, which reads: "Make no mistake, the acts depicted in the article are beyond unacceptable. They are vile and intolerable in our brotherhood, our university community and our society. We remain ready and willing to assist with the fair and swift pursuit of justice, wherever that may lead, and steadfast in our resolve to ensure that nothing like this can happen, ever on our Grounds." (
http://www.cavalierdaily.com/article...-phi-kappa-psi
)
Phi Kappa Psi's University chapter voluntarily suspended their FOA and all fraternity activities.