Pacific Tsunami Warning Centre issues alert for south Pacific islands after magnitude 8.0 quake under sea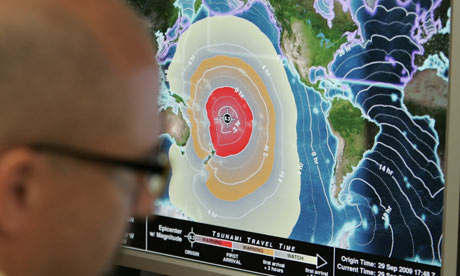 Quote:
A magnitude 8.0 earthquake off the Solomon Islands has sparked a tsunami warning for the island nations of the south Pacific, with houses reported damaged in the Solomons.

Local officials reported two 1.5-metre waves hitting the western side of Santa Cruz Island in the Solomons, damaging about 50 homes and properties. There were no reports of injuries or deaths. Villagers had gone to higher ground as a precaution.

The tsunami formed after the earthquake hit near Lata on Santa Cruz in Temotu province, the easternmost part of the Solomons a three-hour flight from the capital, Honiara. The region has a population of about 30,000 people.

The Pacific Tsunami Warning Centre said a tsunami of about one metre (3ft) was measured in Lata wharf in the Solomons. The centre said an 11cm (4.3in) wave was observed in neighbouring Vanuatu. The centre cancelled earlier warnings for tsunami further away.

The earthquake struck off the Santa Cruz islands, which are Solomons territory. The epicentre was 211 miles (340km) east of Kira Kira. The US Geological Survey initially put the quake epicentre at a very shallow depth of three miles (5km) but later revised this to a much greater depth of 17.8 miles (28.7km).

At various times the Pacific Tsunami Warning Centre issued a tsunami warning for the Solomons, Vanuatu, Nauru, Papua New Guinea, Tuvalu, New Caledonia, Kosrae, Fiji, Kiribati, Wallis and Futuna. A tsunami watch was in effect for American Samoa, Australia, New Zealand and eastern Indonesia. However, the alerts were cancelled as the period of danger passed.

In Honiara the warning prompted residents to flee for higher ground. "People are still standing on the hills outside of Honiara just looking out over the water, trying to observe if there is a wave coming in," said George Herming, a spokesman for the prime minister.

Atenia Tahu, who works for the Solomon Islands Broadcasting Corporation in Honiara, said most people remained calm. "People around the coast and in the capital are ringing in and trying to get information from us and the National Disaster Office and are slowly moving up to higher ground," Tahu said.

"But panic? No, no, no, people are not panicking."

Tsunami warning centre officials, based in Hawaii, said: "When no major waves are observed for two hours after the estimated time of arrival or damaging waves have not occurred for at least two hours then local authorities can assume the threat is passed."
http://www.guardian.co.uk/world/2013...nds-earthquake
Tsunami Causes Damage, Possible Deaths, on Solomon Islands